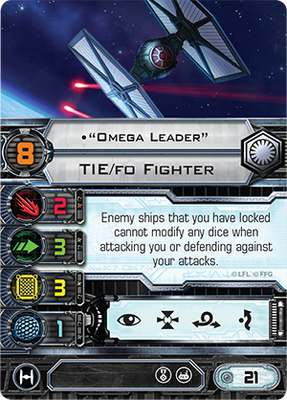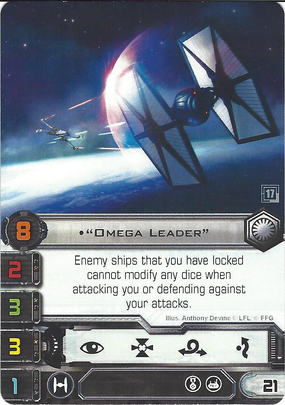 Card Text/Abilities
Edit
Enemy ships that you have locked cannot modify any dice when attacking you or defending against your attacks.
Possible Upgrades
Edit
Elite • Tech • Modification
Playstyle
Edit
With all the benefits of a TIE/fo, Omega Leader prioritizes acquiring a lock but NOT using it. Doing so makes it harder for its prey to hit it and avoid being hit by it.
Available Through
Edit
Card Artist
Edit
Ad blocker interference detected!
Wikia is a free-to-use site that makes money from advertising. We have a modified experience for viewers using ad blockers

Wikia is not accessible if you've made further modifications. Remove the custom ad blocker rule(s) and the page will load as expected.