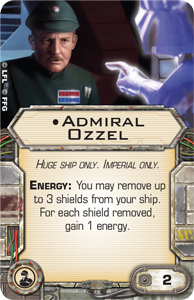 Admiral Ozzel commanded the Super Star Destroyer Executor, Darth Vader's mighty flagship and the linchpin of the squadron searching the galaxy for the Alliance's secret base. Ozzel led the initial attack on Hoth, but his choice of tactics infuriated Vader, leading to a sudden and permanent demotion.
Card Text/Abilities
Edit
HUGE SHIP ONLY. IMPERIAL ONLY.
ENERGY: You may remove up to 3 shields from your ship. For each shield removed, gain 1 energy.
Available Through
Edit