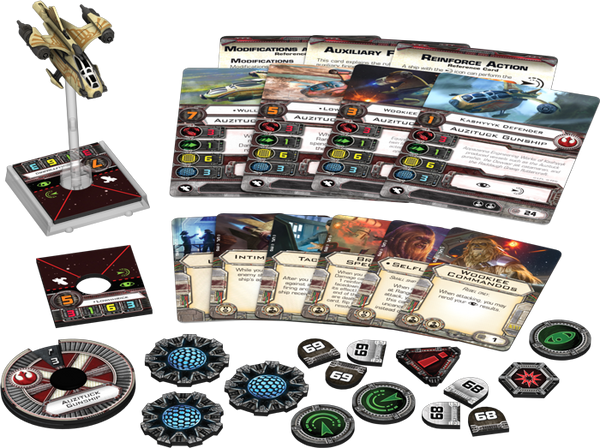 Publisher's Description Edit
Designed by Appazanna Engineering Works of Kashyyyk and equipped with three wide-range Sureggi twin laser cannons, the Auzituck gunship was known for its impressive firepower and incredible durability. The Auzituck Gunship Expansion Pack brings this ship to X-Wing™ as a resilient, pre-painted, small-base Rebel starship with three attack, one agility, and six hull protected by three shields and the reinforce action. You'll find even more ammunition and defensive options among the expansion's four ship cards and six upgrades.
Included Components
Edit
Critical Hit Token
Focus Token
ID Tokens #68, #69 (3 each)
Reinforce Tokens
Shield Tokens
Stress Token 
Modifications and Upgrades
Auxiliary Firing Arc
Additional Information
Edit
Ad blocker interference detected!
Wikia is a free-to-use site that makes money from advertising. We have a modified experience for viewers using ad blockers

Wikia is not accessible if you've made further modifications. Remove the custom ad blocker rule(s) and the page will load as expected.