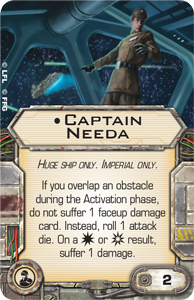 Captain Needa commanded the Avenger, one of the Imperial Star Destroyers that fought for the Empire at the Battle of Hoth. His ship pursued the fleeing Millennium Falcon, but the freighter escaped under mysterious circumstances. Baffled but contrite, Needa decided it was his duty to apologize to Darth Vader for losing the ship.
Card Text/Abilities
Edit
HUGE SHIP ONLY. IMPERIAL ONLY.
If you overlap an obstacle during the Activation Phase, do not suffer 1 faceup damage card. Instead, roll 1 attack die. On a hit or a critical result, suffer 1 damage.
Available Through
Edit