CT-7567, nicknamed "Rex," was a veteran clone trooper captain who oversaw Torrent Company of the Grand Army of the Republic's famed 501st Legion during the Clone Wars. At some point during the Clone Wars, Rex removed his inhibitor chip, and as a result, he did not comply with Order 66 when it was issued.
Eventually, he fought with Ahsoka Tano again during the rebellion's campaign against the oppressive reign of the Galactic Empire. During that time, he befriended the Jedi Purge survivor Kanan Jarrusand his apprentice Ezra Bridger. Rex would help the Spectres and Phoenix Squadron in their struggle against the Empire and efforts to build up the rebellion.
Possible Upgrades
Edit
Modification • Title (Sabine's Masterpiece)
Card Art
Edit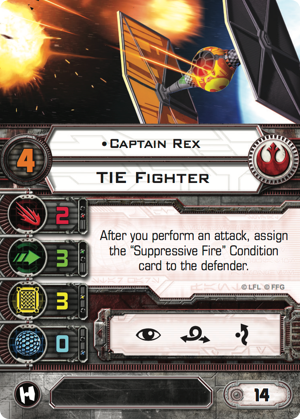 Ad blocker interference detected!
Wikia is a free-to-use site that makes money from advertising. We have a modified experience for viewers using ad blockers

Wikia is not accessible if you've made further modifications. Remove the custom ad blocker rule(s) and the page will load as expected.