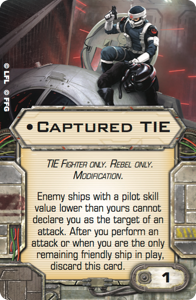 Card Text/Abilities
Edit
TIE FIGHTER ONLY. REBEL ONLY. MODIFICATION.
Enemy ships with a pilot skill value lower than yours cannot declare you as the target of an attack. After you perform an attack, or when you are the only remaining friendly ship in play, discard this card.
Available Through
Edit
Ad blocker interference detected!
Wikia is a free-to-use site that makes money from advertising. We have a modified experience for viewers using ad blockers

Wikia is not accessible if you've made further modifications. Remove the custom ad blocker rule(s) and the page will load as expected.