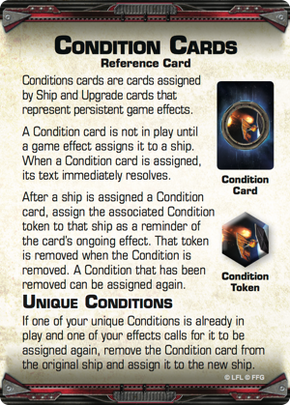 Condition Cards
Edit
Conditions cards are cards assigned by Ship and Upgrade cards that represent persistent game effects.
A Condition card is not in play until a game effect assigns it to a ship. When a Condition card is assigned, its text immediately resolves.
After a ship is assigned a Condition card, assign the associated Condition token to that ship as a reminder of that card's ongoing effect. That token is removed when the Condition is removed. A Condition that has been removed can be assigned again.
Unique Conditions Edit
If one of your unique Conditions is already in play and one of your effects calls for it to be assigned again, remove the Condition card from the original ship and assign it to the new ship.
Sorted Table
Edit
Pages in category "Conditions"
The following 6 pages are in this category, out of 6 total.
Ad blocker interference detected!
Wikia is a free-to-use site that makes money from advertising. We have a modified experience for viewers using ad blockers

Wikia is not accessible if you've made further modifications. Remove the custom ad blocker rule(s) and the page will load as expected.