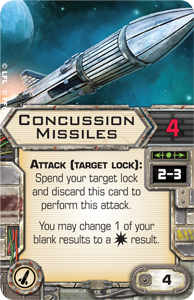 A concussion missile was a short-range, wingless anti-vehicle missile generally deployed by vehicle mounted launchers. There were a wide range of concussion missiles, varying in speed, maneuverability, and destructive capability. The concussion missile evolved from the ancient concussion spheres that were bigger, slower, and less destructive weapons that were similar to traditional bombs. This is a weaker form of assault concussion missile. They can, however, have their explosive yield and exit velocity increased by being upgraded to advanced concussion missiles.
Card Text/Abilities
Edit
ATTACK (TARGET LOCK): Spend your target lock and discard this card to perform this attack.
You may change 1 of your blank results to a hit result.
Available Through
Edit
Card Artist
Edit
Ad blocker interference detected!
Wikia is a free-to-use site that makes money from advertising. We have a modified experience for viewers using ad blockers

Wikia is not accessible if you've made further modifications. Remove the custom ad blocker rule(s) and the page will load as expected.