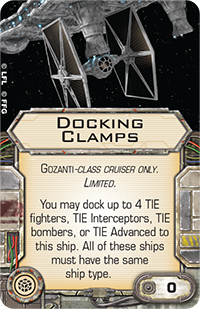 Card Text/Abilities
Edit
GOZANTI-CLASS CRUISER ONLY. LIMITED.
You may dock up to 4 TIE fighters, TIE Interceptors, TIE bombers, or TIE Advanced to this ship. All of these ships must have the same ship type.
Available Through
Edit
Ad blocker interference detected!
Wikia is a free-to-use site that makes money from advertising. We have a modified experience for viewers using ad blockers

Wikia is not accessible if you've made further modifications. Remove the custom ad blocker rule(s) and the page will load as expected.