**This card has been corrected in the Errata / FAQ **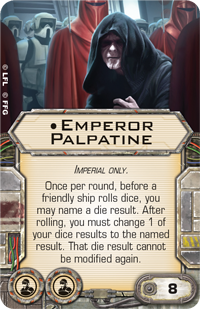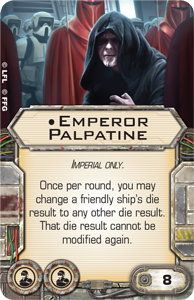 Scheming, powerful, and evil to the core, Darth Sidious restored the Sith and destroyed the Jedi Order. Living a double life, Sidious was in fact Palpatine, a Naboo Senator and phantom menace. He slowly manipulated the political system of the Galactic Republic until he was named Supreme Chancellor -- and eventually Emperor -- ruling the galaxy through fear and tyranny.
Corrected Card Text/Abilities
Edit
IMPERIAL ONLY.
Once per round, before a friendly ship rolls dice, you may name a die result. After rolling, you must change 1 of your dice results to the named result.
Original Card Text/Abilities
Edit
IMPERIAL ONLY.
Once per round, you may change a friendly ship's die result to any other die result. That die result cannot be modified again.
Available Through
Edit
Card Artist
Edit
Ad blocker interference detected!
Wikia is a free-to-use site that makes money from advertising. We have a modified experience for viewers using ad blockers

Wikia is not accessible if you've made further modifications. Remove the custom ad blocker rule(s) and the page will load as expected.