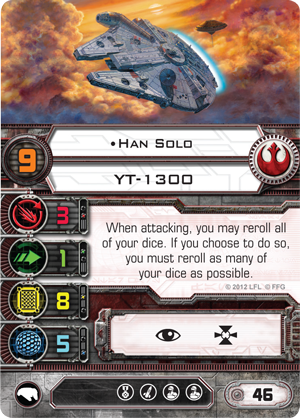 Smuggler. Scoundrel. Hero. Han Solo, captain of the Millennium Falcon, was one of the great leaders of the Rebel Alliance. He and his co-pilot Chewbacca came to believe in the cause of galactic freedom, joining Luke Skywalker and Princess Leia Organa in the fight against the Empire.
Card Text/Abilities
Edit
When attacking, you may reroll all of your dice. If you choose to do so, you must reroll as many of your dice as possible.
Possible Upgrades
Edit
Elite • Missiles • Crew (2) • Modification • Title (Millennium Falcon; Millennium Falcon (HOR))
Han Solo's ability is a 'Modify Attack Dice' ability similar to spending a target lock or a focus token–it is not a separate attack. (X-Wing FAQ, Version 3.1.1, Updated 07/24/2015)
Unique Named
Edit
Available Through
Edit
Millennium Falcon Expansion Pack
Alternate Art Versions
Edit
Ad blocker interference detected!
Wikia is a free-to-use site that makes money from advertising. We have a modified experience for viewers using ad blockers

Wikia is not accessible if you've made further modifications. Remove the custom ad blocker rule(s) and the page will load as expected.