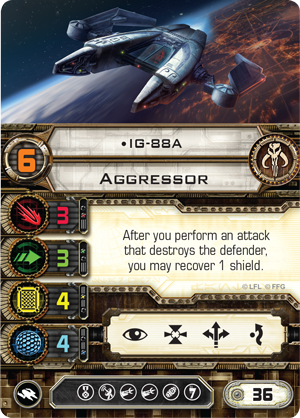 IG-88A was the first of the IG-88 assassin droid models. Created by Holowan Laboratories as part of a secret Imperial project commissioned by Supervisor Gurdun, IG-88A had a violent awakening. Upon activation, he rapidly expanded his memory, growing to the brink of sentience due to a new programming package installed within.
IG-88A believed that he was superior to organic beings, and, when the scientists in the lab—concerned with his rapidly propagating memory—attempted to shut him down, he slaughtered them. IG-88A then activated the other three IG-88 models in the lab, transferring his consciousness to their droid brains and linking the four droids with a single mind.
Card Text/Abilities
Edit
After you perform an attack that destroys the defender, you may recover 1 shield.
Action Bar
Edit
Focus • Target Lock • Boost • Evade
Possible Upgrades
Edit
Elite • System • Cannon (2) • Bomb • Illicit • Modification • IG-2000 (Title)
IG-88A's pilot ability does not allow him to gain shields above his starting shield value—he must lose a shield token before he can recover it.
If IG-88A destroys a ship at his pilot skill, he does not recover the shield until that ship has had an opportunity to attack with the Simultaneous Attack Rule.
Available Through
Edit
Card Artist
Edit