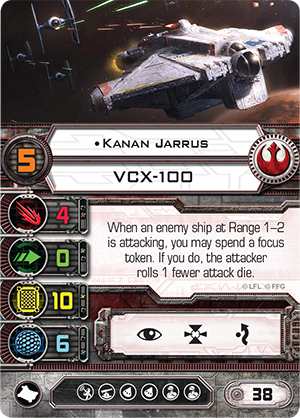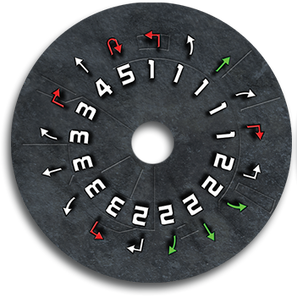 Kanan Jarrus, born Caleb Dume, was a Force-sensitive human male Jedi Knight who survived Order 66 during the Clone Wars. After getting caught up with a ragtag rebellious group consisting of Twi'lek pilot, Hera Syndulla, the conspiracy theorist Skelly, and the Sullustan shift leader Zaluna Myder, Kanan helped prevent Count Denetrius Vidian from destroying Cynda. During the conflict, Jarrus made the decision to accompany Syndulla on her VCX-100 light freighter, the Ghost—which he eventually would command alongside her.
 Card Text/Abilities
Edit
When an enemy ship at Range 1-2 is attacking, you may spend a focus token. If you do, the attacker rolls 1 fewer attack die.
 Action Bar
Edit
Focus • Target Lock • Evade
Possible Upgrades
Edit
System • Turret • Torpedoes x2 • Crew x2 • Modification • Ghost (Title)
Unique Named
Edit
Available Through
Edit
See Also
Edit
Ad blocker interference detected!
Wikia is a free-to-use site that makes money from advertising. We have a modified experience for viewers using ad blockers

Wikia is not accessible if you've made further modifications. Remove the custom ad blocker rule(s) and the page will load as expected.