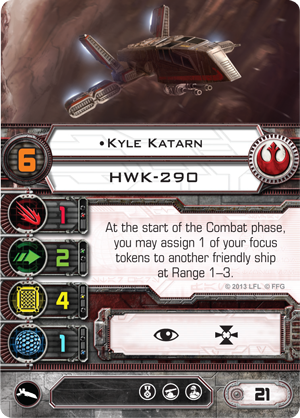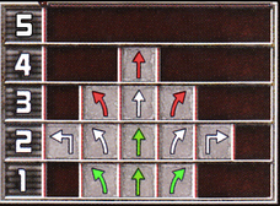 Kyle Katarn was a famous Human male Rebel operative from Sulon and later a Jedi of the New Jedi Order. He was a former Imperial stormtrooper who defected to the Rebellion. Often paired with fellow Rebel agent and smuggler Jan Ors, he performed many covert missions for the Rebel Alliance and later the New Republic, including the sabotage of the Dark Trooper Project.
Katarn was later informed of his Force sensitivity, and taught himself to become a Jedi while in search of the Valley of the Jedi. During this journey, he confronted the dark side within both himself and in the form of the Dark Jedi Jerec and his minions. Defeating them, Katarn went on to become a Jedi Master, teaching at the Jedi Praxeum. He participated in the offensives against the Yuuzhan Vong and became a part of the Jedi High Council in the New Jedi Order."
Card Text/Abilities
Edit
At the start of the Combat phase, you may assign 1 of your focus tokens to another friendly ship at Range 1-3.
Possible Upgrades
Edit
Elite • Turret • Crew • Modification • Moldy Crow (Title)
Unique Named
Edit
Available Through
Edit
Card Artist
Edit
Ad blocker interference detected!
Wikia is a free-to-use site that makes money from advertising. We have a modified experience for viewers using ad blockers

Wikia is not accessible if you've made further modifications. Remove the custom ad blocker rule(s) and the page will load as expected.