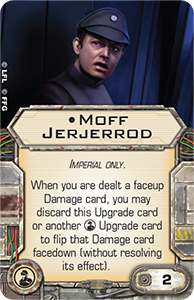 A chilly technocrat, Tiaan Jerjerrod was responsible for overseeing construction of the second Death Star above the forest moon of Endor. The task was difficult, to say the least -- Jerjerrod desperately needed more time and more resources. What he got instead was a visit from Darth Vader.
Card Text/Abilities
Edit
IMPERIAL ONLY.
When you are dealt a faceup Damage card, you may discard this Upgrade card or another Crew Upgrade card to flip that Damage card facedown (without resolving its effect).
Available Through
Edit
Ad blocker interference detected!
Wikia is a free-to-use site that makes money from advertising. We have a modified experience for viewers using ad blockers

Wikia is not accessible if you've made further modifications. Remove the custom ad blocker rule(s) and the page will load as expected.