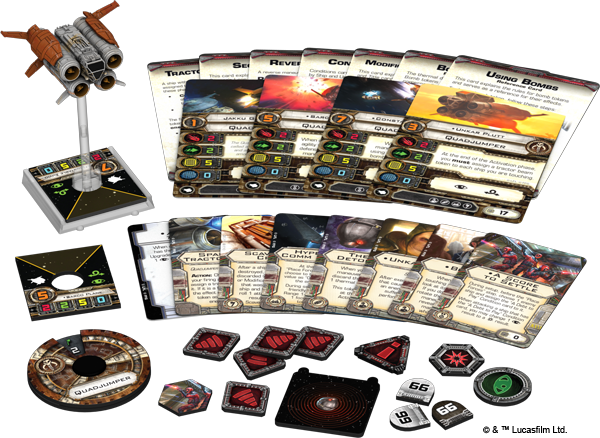 Publisher's Description
Edit
First appearing in The Force Awakens, the quadjumper arrives to X-Wing™ as a Scum and Villainy ship, full of new maneuvers and dirty tricks. In addition to its pre-painted quadjumper miniature, the Quadjumper Expansion Pack allows you to militarize this typically unarmed ship with four Scum pilots and eight upgrades. These include new crew members, illicit technologies, and a modification that grants extra versatility to your tractor beam tokens. Finally, a unique elite pilot talent and associated condition help your elite pilots pay back their debts against those who have done them wrong.
This is not a complete game experience. A copy of the X-Wing Miniatures Game Core Set is required to play.
Included Components
Edit
Upgrades Edit
Focus Token
Stress Token
Critical Hit Token
Condition Token "A Score to Settle" (A Debt To Pay)
Tractor Beam Tokens (x5)
Thermal Detonator Token
ID Tokens #66 (x3)
Tractor Beam
Segnor's Loop
Reverse
Condition Cards
Bomb Token - Reference Card #7
Using Bombs
Additional Information
Edit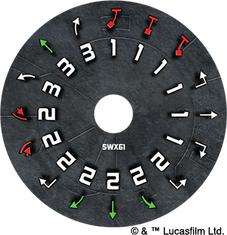 FFG Part Number SWX61
Ad blocker interference detected!
Wikia is a free-to-use site that makes money from advertising. We have a modified experience for viewers using ad blockers

Wikia is not accessible if you've made further modifications. Remove the custom ad blocker rule(s) and the page will load as expected.