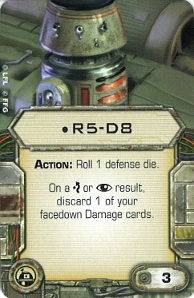 R5-D8 was an astromech droid used by Jek Tono Porkins during the Battle of Yavin. He had used the droid since he was a part of the Tierfon Yellow Aces. R5-D8 exploded together with Porkins's X-wing during the assault on Death Star I.
Card Text/Abilities
Edit
Action:  Roll 1 defense die.
On an evade or focus result, discard 1 of your facedown Damage cards.
Available Through
Edit
Ad blocker interference detected!
Wikia is a free-to-use site that makes money from advertising. We have a modified experience for viewers using ad blockers

Wikia is not accessible if you've made further modifications. Remove the custom ad blocker rule(s) and the page will load as expected.