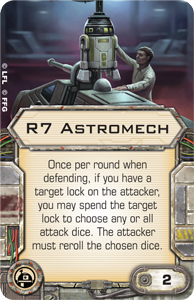 The R7-series astromech droid was an astromech droid produced by Industrial Automaton during the Galactic Civil War. The R7-series was designed specifically for use with the Rebel Alliance/New Republic E-wing escort starfighter.
Card Text/Abilities Source
Edit
Once per round when defending, if you have a target lock on the attacker, you may spend the target lock to choose any or all attack dice. The attacker must reroll the chosen dice.
Available Through
Edit
Ad blocker interference detected!
Wikia is a free-to-use site that makes money from advertising. We have a modified experience for viewers using ad blockers

Wikia is not accessible if you've made further modifications. Remove the custom ad blocker rule(s) and the page will load as expected.