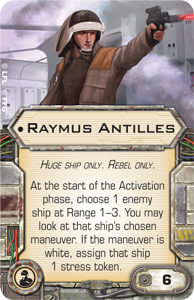 A level-headed ship officer schooled in diplomacy, and a capable pilot entrusted to ferry about the royal family of Alderaan, Captain Antilles served in Bail Organa's command staff. He was part of the bridge crew of Organa's diplomatic cruiser, a role he would continue during the time Princess Leia served as Senator of Alderaan.
Card Text/Abilities
Edit
HUGE SHIP ONLY. REBEL ONLY.
At the start of the Activation phase, choose 1 enemy ship at Range 1-3. You may look at that ship's chosen maneuver. If the maneuver is white, assign that ship 1 stress token.
Available Through
Edit
Card Artist
Edit