Publisher's Description
Edit
"The iconic Corellian CR90 comes to life in X-Wing™ with the Tantive IV™ Expansion Pack! Featuring one huge, pre-painted CR90 miniature, its maneuver dial, plus all the cards and tokens that you need to field it, the Tantive IV Expansion Pack adds fantastic depth to the game's Cinematic Play and its massive, new Epic Play format. Moreover, rules for "energy" fuel your shields and weapons, and a new maneuver template ensure that the Tantive IV fights and flies in a manner as epic as the ship deserves!"
This is not a complete game experience. A copy of the X-Wing Miniatures Game Core Set is required to play.
Components
Edit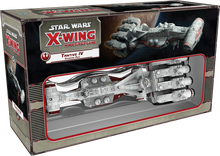 Crew Members
Edit
Hardpoints
Edit
Energy Tokens (x16)
Ion Tokens (x6)
Reinforce Token
Shield Tokens (x14)
Target Lock Tokens Q/R (x2)
Mission Tokens/Cards
Edit
Active Charge Tokens (x5)
Class-E Cargo Container
Damage Tokens (x5)
Dud Charge Tokens (x4)
Hyperdrive Card
Hyperdrive Repair Tokens (x6)
Satellite Tokens (x2)
Scope Tokens (x6)
Missions/Campaign Edit
Damage Deck Edit
Ad blocker interference detected!
Wikia is a free-to-use site that makes money from advertising. We have a modified experience for viewers using ad blockers

Wikia is not accessible if you've made further modifications. Remove the custom ad blocker rule(s) and the page will load as expected.