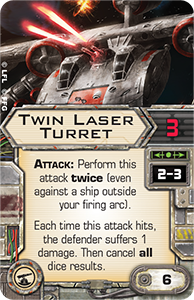 Card Text/Abilities
Edit
ATTACK: Perform this attack twice (even against a ship outside your firing arc).
Each time this attack hits, the defender suffers 1 damage. Then cancel all dice results.
If a VCX-100 is equipped with the Ghost title, has a docked Attack Shuttle equipped with the Phantom title, and performs an attack with a Twin Laser Turret at the end of the Combat phase, that ship can perform the second attack with Twin Laser Turret. (X-Wing FAQ, Version 4.2.1, Updated 07/01/2016)
Available Through
Edit
Ad blocker interference detected!
Wikia is a free-to-use site that makes money from advertising. We have a modified experience for viewers using ad blockers

Wikia is not accessible if you've made further modifications. Remove the custom ad blocker rule(s) and the page will load as expected.