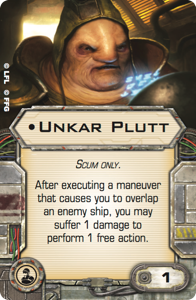 Unkar Plutt, a member of the male Crolute species, resided on the remote, lawless world of Jakku approximately 30 years after the Battle of Endor. The Crolute was a junk boss who bought weapons, gears and scraps of Rebel and Imperial ships which had crashed during the Battle of Jakku.
Card Text/Abilities
Edit
SCUM ONLY.
After executing a maneuver that causes you to overlap an enemy ship, you may suffer 1 damage to perform 1 free action.
Unique Named
Edit
Available Through
Edit
Ad blocker interference detected!
Wikia is a free-to-use site that makes money from advertising. We have a modified experience for viewers using ad blockers

Wikia is not accessible if you've made further modifications. Remove the custom ad blocker rule(s) and the page will load as expected.