Astromechs
Talk

0
345pages on
this wiki
Category page | Redirected from X-Wing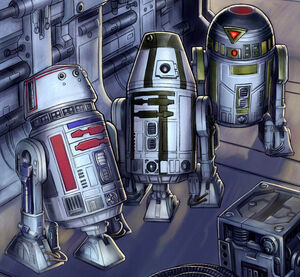 " An astromech droid, also referred to as an astro droid, was a type of droid that served as an automated mechanic, performing a variety of repair duties and often serving as an adjunct or substitute for a nav computer on smaller starships. Astromech droids could also use the mainframes of larger ships to their advantage. Many starfighters relied on astromech copilots. "

Only X-Wings, E-Wings and Y-Wings can be upgraded with an Astromech.
Astromechs
Edit
Pages in category "Astromechs"
The following 12 pages are in this category, out of 12 total.