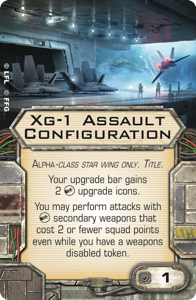 Card Text/Abilities
Edit
ALPHA-CLASS STAR WING ONLY. TITLE.
Your upgrade bar gains two Cannons upgrade icons. You may perform attacks with cannons secondary weapons that cost two or fewer squad points even while you have a weapons disabled token.
Available Through
Edit
Ad blocker interference detected!
Wikia is a free-to-use site that makes money from advertising. We have a modified experience for viewers using ad blockers

Wikia is not accessible if you've made further modifications. Remove the custom ad blocker rule(s) and the page will load as expected.